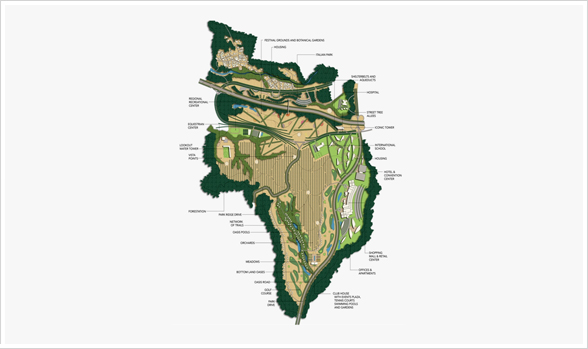 Click on image to Enlarge
Project handled by Principal Architect Ajay Patil
Salient Features


Area under development 700 Ha (1680 acres)
By preserving the existing orchards on slopping hills following reality development suggested.


The hotel/convention center
will be located at the main highway interchange and include an iconic structure.


Two 18-hole golf courses
will be developed along the gently sloping hills in the southern area of the property; a clubhouse with overnight accommodations, restaurant, etc. will be developed as part of the project.


Golf villas
Part of real estate property for golf lovers.


Equestrian Park, Health club
The property adjacent to the highway will be devoted to park uses: the planned Italian-government facilities will be enhanced by additional hiking and equestrian trails, and active recreation nodes; the pedestrian bridge over the highway will link the two areas.


Moorish villages
Face lift of existing villages with architectural façade control.


A regional shopping center
will be developed in the area just to the south of the enhanced highway interchange.


High rise apartments
Residential development, of different types and densities, will be developed adjacent to the golf courses and along the upgraded ridge road which crosses the property in an east-west corridor.


International school
covering students with large radius.